Chairlift and Stairlift Service, and Home Access Ramps in Mount Laurel, New Jersey
Neither age nor a diagnosed disability should prevent you from living your life to the fullest in Mount Laurel, NJ. Our team at AABA Family Medical Supply is on a mission to empower your mobility with a durable chairlift, stairlift, or another option that will secure your independence for years to come! We offer personalized, white-glove service as an integral part of all chairlift repairs and installations.
Our stairlift service ensures you can access any level of your home with minimal or no assistance. Stairs can transform into a challenging gauntlet of fall hazards for many people. However, homeowners still need to reach each level of their home. Our stairlift repairs, installations, and related services keep you on the move!
Home Access Ramps in Mount Laurel, NJ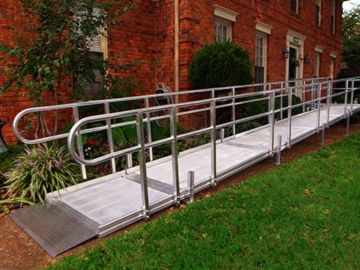 Home access ramps further empower your mobility and independence in Mount Laurel, NJ. You should enjoy the opportunity to relax on your porch or deck on any given day, and a home access ramp enables you to do so.
You can rent or purchase a ramp, depending on your needs. Our inventory includes diverse options that allow you to:
Enter and exit vehicles
Access your lawn and other areas of your home
Safely use walkers, wheelchairs, and other mobility devices
We also supply options beyond chairlifts, stairlifts, and ramps.
Medical and Mobility Scooter Service in Mount Laurel, New Jersey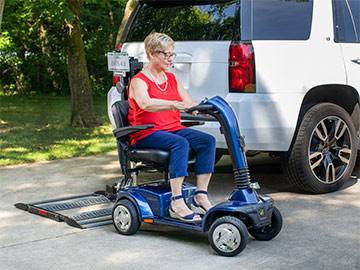 Medical and mobility scooters are among the most reliable, secure options for traveling across flat surfaces. We offer a variety of medical scooters with numerous features to suit your traveling needs, including:
Front baskets for storing items you need
Options with three or four wheels
Foldable medical scooters for quick and easy storage and portability
Basic powered wheelchairs for streamlined movement
Our mobility scooter service includes mobility scooter repair and delivery. You can shop at the grocery store or visit your nearby neighbor with ease!
Mount Laurel, NJ, offers its residents myriad opportunities to sample the best things in life. Shopping centers, stately neighborhoods, and recreational parks beckon locals to enjoy fresh air, socialize, and bask in the township's small-town quirks.
AABA Family Medical Supply enables aging or disabled citizens to take full advantage of the township with chairlift repairs and installations. We offer complete stairlift repairs and installations, home access ramps, and mobility scooters to ensure everyone has a chance to participate. Contact us about the mobility option that best fits you today!