Chairlift and Stairlift Repairs & Stairlift Service in Gloucester City, New Jersey
Almost 90% of seniors prefer the comfort of their long-time home to care facilities. They appreciate the extensive space and having their personal items and loved ones surround them, but being unable to access every part of their Gloucester City, NJ, residence makes this difficult. That's where stairlift services come in.
At AABA Family Medical Supply, we provide indoor and outdoor lifts, each spanning one or more floors, to help you regain your independence and reduce your fear of falling. Our highly trained technicians also conduct chairlift repairs and stairlift repairs. We troubleshoot and remedy issues with anything from battery replacements to drive reinstallations and armrest control switch repairs.
Home Access Ramps in Gloucester City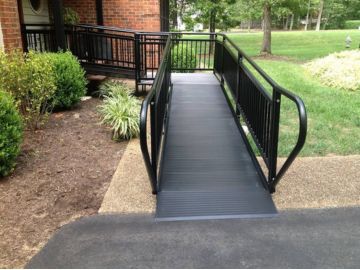 For smaller sets of stairs, such as the ones leading up to your front door, back door, or garage, home access ramps are more convenient, especially for those with walkers, wheelchairs, or scooters. When we install them around your home or workplace, a certified technician examines the location to determine the appropriate space and size necessary while keeping in line with current ADA guidelines.
If you prefer a temporary solution, we also offer portable ramps in Gloucester City, NJ, and surrounding areas. Lay and remove the ramp with an 800-pound weight limit when necessary, or take it on the go for assistance with less accessible public establishments.
Medical and Mobility Scooters in Gloucester City, NJ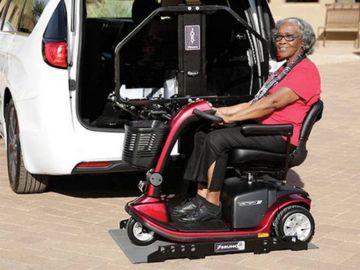 Alongside chairlift, stairlift, and ramp services, we also provide medical scooters and mobility scooters for those who struggle to maneuver around a single floor. Our mobility scooter services include matching you with the appropriate scooter, depending on your needs. The three main types include portable, three-wheel, and four-wheel scooters.
We also conduct mobility scooter repairs like wheel and armrest replacements and motor servicing, among other things, to ensure the smoothest ride.
To many, Gloucester City is the birthplace of rock and roll, with numerous early rock bands like Bill Haley & His Comets evolving their sound at the Twin Bar. Today isn't much different, with LOT 323, the Music Barn, and Investors Bank Performing Arts Center supplying entertainment. You can also visit the Broadway Theatre of Pitman for more vocal talent, but to get out there, you need mobility.
At AABA Family Medical Supply in Villas, we supply chairlifts, stairlifts, and more in Gloucester City, NJ, and surrounding areas. Take advantage of our white glove service and 100% satisfaction guarantee by contacting us today!