6 Major Benefits of Getting Bruno Stairlift
AABA Family Medical offers Bruno stairlift in Avalon, NJ, Blackwood, NJ, Cape May, Cape May Court House, Cherry Hill, NJ, Hammonton, NJ.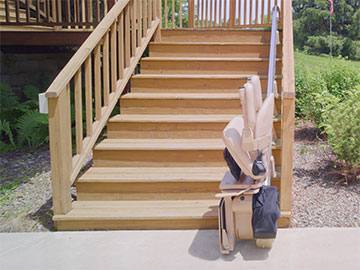 Getting a Bruno stairlift can provide numerous benefits for individuals with mobility challenges. Here are six key advantages of investing in a Bruno stairlift:
Improved Accessibility: A Bruno stairlift allows individuals to navigate staircases with ease, regardless of their physical limitations. It provides a safe and convenient way to access different levels of a home, ensuring individuals can maintain their independence and move freely within their living space.
Enhanced Safety: Staircases can pose significant risks, especially for individuals with limited mobility, balance issues, or those prone to falls. Bruno stairlifts are designed with advanced safety features, such as seat belts, swivel seats, and obstruction sensors, which ensure a secure and protected ride up and down the stairs.
Comfort and Convenience: Bruno stairlifts are known for their ergonomic design and comfortable seating options. They provide a smooth and gentle ride, eliminating the need for physically strenuous stair climbing. With user-friendly controls and customizable features, Bruno stairlifts offer a hassle-free and convenient experience.
Versatility and Adaptability: Bruno stairlifts can be installed on various types of staircases, including straight, curved, and spiral stairs. They can be customized to fit individual needs, accommodating different staircase configurations and specific user requirements. Bruno offers a range of models to cater to different mobility needs and home environments.
Home Independence: By installing a Bruno stairlift, individuals can maintain their ability to move freely within their homes. This increased accessibility can significantly improve their quality of life, allowing them to continue living in the comfort of their own space without the need for costly home modifications or relocation.
Peace of Mind for Loved Ones: Bruno stairlifts not only benefit the individuals using them but also provide peace of mind to their loved ones. Family members and caregivers can feel reassured knowing that their loved ones can safely navigate the stairs, reducing the risk of accidents and injuries.
It's important to note that while these benefits are generally associated with Bruno stairlifts, it's recommended to consult with a professional and consider individual circumstances before making a purchasing decision. Please feel free to call us.