6 Reasons to Go for Acorn stairlift
AABA Family Medical provides Acorn stairlift in Avalon, NJ, Blackwood, NJ, Cape May, Cape May Court House, Cherry Hill, NJ, Hammonton, NJ.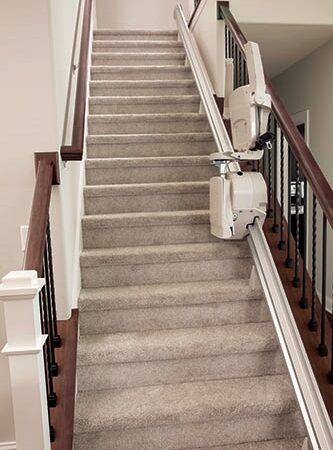 Acorn stairlifts offer numerous benefits and can greatly improve mobility and independence for individuals with mobility challenges. Here are six reasons why you should consider choosing an Acorn stairlift:
Safety: Acorn stairlifts prioritize safety features to ensure a secure and comfortable ride. They are equipped with safety belts, swivel seats, and safety sensors that detect obstacles and automatically stop the lift if necessary. This ensures that users can navigate stairs without the risk of falling or injury.
Ease of Use: Acorn stairlifts are designed with user-friendliness in mind. They have simple controls, usually in the form of a joystick or push buttons, making them easy to operate, even for individuals with limited dexterity or mobility issues. The seats are comfortable and can be adjusted to meet individual needs.
Customization: Acorn offers a wide range of stairlift models to accommodate different staircase configurations. Whether you have a straight staircase or one with curves, landings, or intermediate levels, Acorn can provide a customized solution to fit your specific requirements. The rails can be tailored to match the color and design of your staircase, ensuring a seamless integration into your home.
Space-Saving Design: Acorn stairlifts are designed to be compact and unobtrusive. When not in use, they can be easily folded and parked out of the way, allowing other family members or guests to use the stairs freely. The slim profile of the lift ensures that the staircase remains accessible and retains its original functionality.
Quick Installation: Acorn stairlifts are typically installed within a short period, often within a few hours. Their modular design and straightforward installation process minimize disruption to your home. Acorn technicians are trained to efficiently install the stairlift with minimal modifications to your staircase, ensuring a smooth and hassle-free experience.
Reliability and Warranty: Acorn is a reputable brand known for its quality and reliability. Their stairlifts are built to last and are backed by comprehensive warranties for added peace of mind. In case of any issues, Acorn has a network of trained technicians who can provide prompt service and support.
Choosing an Acorn stairlift can significantly enhance your quality of life by providing safe and convenient access to all areas of your home. It allows you to maintain your independence and stay in the comfort of your own space, even if mobility challenges arise. Feel free to call us.