Stairlifts, Mobility Scooter, Chairlift Repair, and Home Access Ramps in Absecon, NJ
AABA Family Medical Supply is your premier provider of cost-effective solutions for everyday mobility challenges in Absecon, NJ. With over 30 years of experience, we have been proudly serving the community since 1993. Our mission is to offer dependable products and services that enhance mobility and independence for individuals with diverse healthcare needs. From stairlifts at home to mobility scooters on the go, we have the right solutions for your needs.
With AABA Family Medical Supply, you can have confidence in our commitment to providing dependable products and services. We prioritize your safety, comfort, and satisfaction, and our experienced team is dedicated to exceeding your expectations.
Stairlift and Chairlift Installation and Repair Services in Absecon, NJ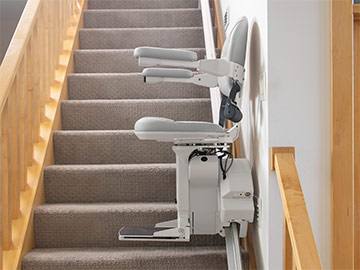 At AABA Family Medical Supply, we specialize in a wide range of mobility products and services to cater to your specific needs, including installing and repairing stairlifts in Absecon, NJ, homes. We understand the importance of maintaining safe and accessible spaces within your home. Our professional technicians are skilled in chairlift installation, repair, and maintenance. Whether you need a new stairlift or require service for an existing one, our experts will ensure smooth and reliable operation.
We also offer a selection of used chairlifts that are meticulously inspected and refurbished to ensure their reliability and performance. Our used options provide a cost-effective solution without compromising on quality, allowing you to achieve mobility and accessibility within your budget.
If you require a stairlift for a temporary period, we offer flexible rental options. Our stairlift rentals allow you to address short-term mobility challenges while maintaining your independence at home. Contact us to discuss your specific requirements, and we will find the best solution for you.
Mobility Scooters, Vertical Platform Lifts, and Home Access Ramps in Absecon, NJ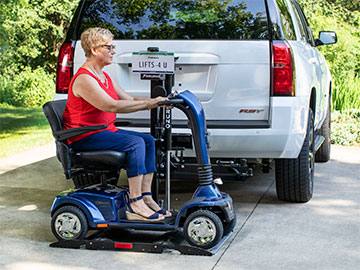 Regain your freedom and independence with mobility scooters in Absecon, NJ from the top manufacturers. These versatile devices are designed to enhance mobility for individuals with limited mobility or stamina. With various models available, our scooters provide a reliable and convenient means of transportation for daily activities.
For individuals with limited mobility, vertical platform lifts offer a safe and convenient solution for accessing different levels of your home. These lifts are designed to accommodate wheelchairs and scooters, providing easy and barrier-free movement. We also offer home access ramps. Our ramps are designed to facilitate smooth and secure entry and exit, eliminating barriers and ensuring mobility for individuals with walkers, wheelchairs, or scooters.
Mobility Products and White Glove Delivery and Installation Service in Abescon and Southern NJ
At AABA Family Medical Supply, we prioritize your convenience and offer a complimentary white glove delivery service to residents of Southern NJ, including Absecon. Our team will deliver your selected products directly to your doorstep and provide professional setup, ensuring everything is in perfect working order.
Absecon, NJ is a charming city nestled in Atlantic County, renowned for its rich history and welcoming community. One of the highlights of Absecon is its historical heritage. Founded in 1872, the city is home to various historic landmarks, including the Absecon Lighthouse, the tallest lighthouse in New Jersey. With AABA Family Medical Supply as a trusted partner in mobility solutions, individuals of all abilities can navigate and fully experience the beauty and opportunities that Absecon has to offer. From historic landmarks to community events, Absecon and AABA Family Medical Supply work hand in hand to create a city where everyone can thrive and enjoy a high quality of life.